Trick or Treat Divination (Top 5 Creepiest Halloween Candy Remixed)
I just love Halloween! Out of all the holidays, this one is especially meaningful to psychics because our connection to the "other" world is heightened. On Samhain, a veil is pierced that allows the spirits from the other side to whisper into our ears if you listen closely. Also, it is a time for spooks, ghouls, ghosts, goblins, and just good old fashioned "trick or treating".
A Bit of History:
Although the tradition of guising and wearing seasonal costumes stretch back to the Middle Ages, the first appearance of "trick or treating" (warning of the homeowner/resident of a trick if a treat is not given) began in 1911 in Kingston, Ontario. Eventually, the practice spread to other parts of Canada and ultimately made its first American appearance in Chicago in 1920. By the 1930's, the practice of trick or treating became a widespread practice in the United States, and eventually permeated the media in 1939.
In the 21st century, Halloween and "Trick or Treating" remains popular, and each year more events occur to celebrate the magical Eve. Over the years, candy and other assorted edible goodies have been created specifically to cater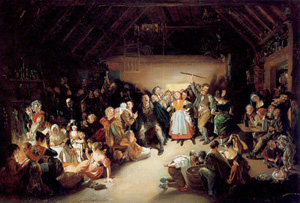 to children who dress up in costumes and visit neighborhood doors to collect their loot. Inside bags across North America, assorted chocolates, lollipops, candy corn, and the occasional piece of fruit are enjoyed by many young and old. However, in certain cases "the trick" might be played on those individuals who are 'souling' (the medieval practice of the poor going door to door on Hallowmas receiving food in return for prayers for the dead) when they receive unusual treats.